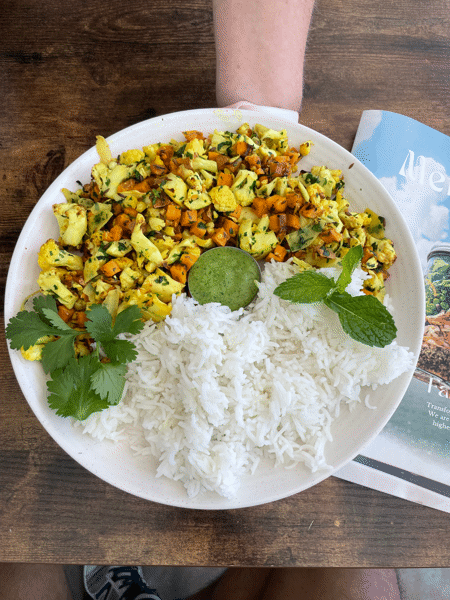 ayurvedic six taste cauliflower
Designed by Nisha Khanna, Functional MD. Meals that consciously incorporate all six tastes feed each of the 6 phases of Ayurvedic digestion. Translation: you digest them better -- feel light, yet fully nourished. Because six-taste meals also feed all the groups of your tastebuds (and their corresponding organs on the tongue), they are inherently more satisfying. The cooling properties of this dish also balance the summer Texas heat without compromising digestion. (Contains less than 500mg sodium)
{{product.name}}
-{{variant.name}}
x1
{{toCurrency(variant.price)}}
Total
{{toCurrency(total)}}
ayurvedic six taste cauliflower
Designed by Nisha Khanna, Functional MD. Meals that consciously incorporate all six tastes feed each of the 6 phases of Ayurvedic digestion. Translation: you digest them better -- feel light, yet fully nourished. Because six-taste meals also feed all the groups of your tastebuds (and their corresponding organs on the tongue), they are inherently more satisfying. The cooling properties of this dish also balance the summer Texas heat without compromising digestion. (Contains less than 500mg sodium)
To find out product pricing and availability, check to see if we are in your area.
Cauliflower, Sweet Potatoes*, Basmati Rice, Avocado Oil, Cilantro, Olive Oil, Ginger Root, Coconut Oil, Himalayan Pink Salt, Mint, Coconut Flake, Lime Juice, Cumin Seed, Garlic, Turmeric, Black Pepper, Jalapeno Pepper, Lemon Juice, Asafoetida
*Grown in Texas
Serving size
0 oz (0g)
0 servings per container
per serving
Calories
700
% of daily value *
Total fat
40g
51%
Saturated fat
9g
45%
Total carbohydrate
78g
28%
Dietary fiber
10g
36%
Total sugars
9g
Protein
11g
* Percent daily values are based on a 2,000 calorie diet. Your daily values may be higher or lower depending on your calorie needs.